History of Holton Table Tennis Club
The club was founded in 1977 by a handful of players living in Holton, including Gordon Collett, then the chairman of the club, who played at Holton for 27 years before moving to Witney. Other early members included Terry Talbot (treasurer), Brian Dobson (secretary) and Frank Johnston.
The club set up home in the new village hall, with just one table to start with. Back then, membership was just £1.50 for an adult, and members could play at a club night for the princely sum of 10p per person! The Autumn of 1978 saw Holton enter its first team in the local table-tennis league, back in the days when there were 11 divisions in the Oxford league. Since then, Holton has entered at least one team in the Oxford league every year.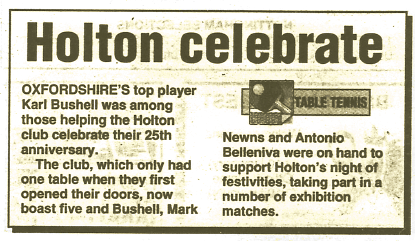 It was soon obvious that with the popularity of the club, more tables were needed, and so ensued much fundraising: tombolas, bottle stalls, jumble sales, and some of the players' wives even did some wedding catering in aid of club funds. Together with a grant from Oxford County Council, new tables were purchased: 5 in total.
Holton celebrated their 25th anniversary on 12th September 2002, and marked the occasion with an open evening to attract new players, which also featured exhibition matches from some of Oxfordshire's leading players.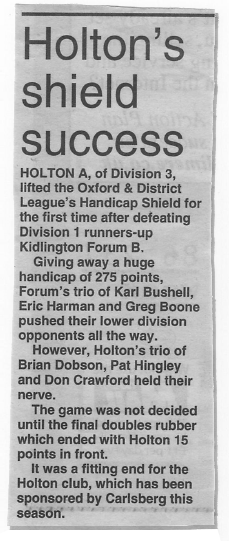 The Handicap Shield is a yearly competition within the local Oxford & District league, and in Autumn 2005, Holton made a fine start by beating Vikings A (a Division 1 side), for the second successive year running. This time they managed to take it all the way, beating Kidlington Forum B in the final.